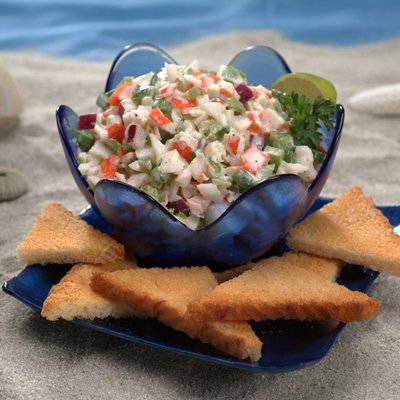 6 to 8 appetizer servings
This Mexican-Style Surimi is an economical and tasty version of a crab dip that will be great to serve at your next party or gathering.
Media Crema
NET 7.6 FL OZ (225 mL)
1 package (16 ounces) surimi (imitation crabmeat), chopped

1 large green bell pepper, finely chopped

2 tablespoons finely chopped red onion

2 tablespoons thinly sliced green onion

1/4 teaspoon ground black pepper

Fresh parsley for garnish

1 package (7.05 ounces) toasted bread
Combine surimi, bell pepper, red onion and green onion in medium serving bowl. Stir media crema, buttermilk, lemon juice, oil salt and black pepper together in small bowl until smooth. Pour over surimi mixture; stir until coated. Cover; refrigerate for at least 2 hours. Garnish with parsley.
Serve with toasted bread.
EVERYTHING CREAMY & DECADENT