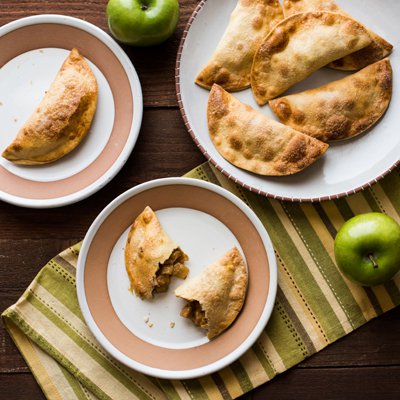 Dulce de Leche & Apple Empanadas
Dulce de Leche & Apple Empanadas
●

●

●

2 green apples, peeled and chopped

●

2 teaspoons all-purpose flour

●

1/4 teaspoon ground cinnamon

●

10 (one 14-ounce package) frozen store-bought empanada dough discs, defrosted

●

●

2 tablespoons cinnamon-sugar
Step 1
Preheat oven to 450° F. Line baking sheet with parchment paper.
Step 2
Combine water and juice from lemon in medium, microwave-safe bowl. Add apples to water mixture; stir to coat. Microwave on HIGH (100%) power for 2 minutes.
Step 3
Stir in dulce de leche until melted. Stir in flour and cinnamon.
Step 4
Place empanada discs on prepared baking sheet. Place a rounded tablespoon of apple mixture on each disc. Fold in half, sealing edges with fingers or tines of a fork.
Step 5
Brush with egg. Sprinkle with cinnamon-sugar.
Step 6
Bake for 15 minutes or until golden.