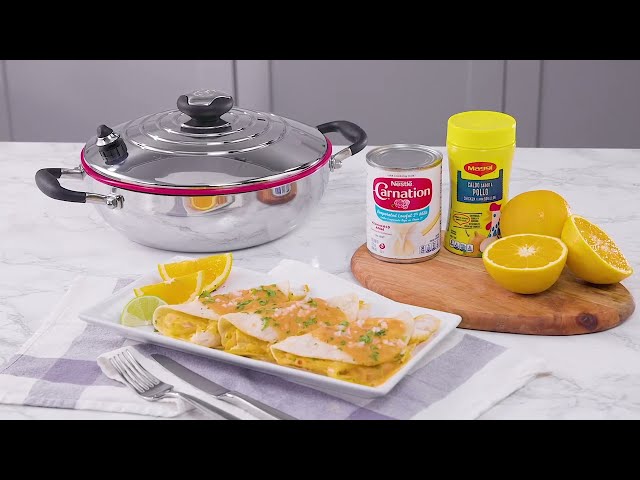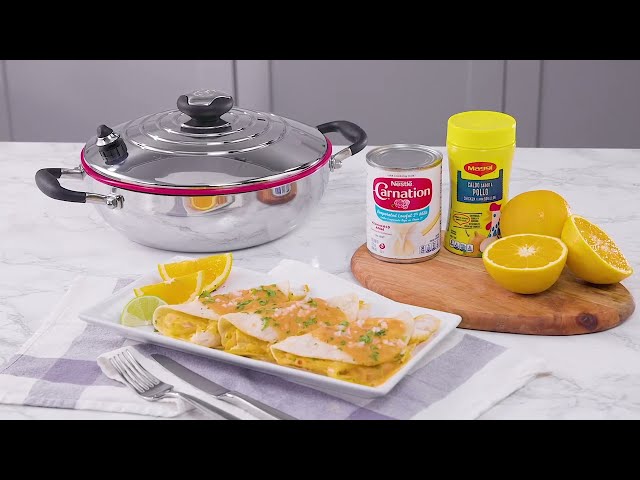 Fish Enchiladas al Pastor
Official MAGGI®
Fish Enchiladas al Pastor
These fish enchiladas al pastor will be a hit at your next gathering. The spicy from the chipotle in adobo sauce and sweet from the pineapple makes a perfect combination.
Combine pineapple juice, orange juice, adobo sauce and bouillon in a large dish. Add fish; marinate in refrigerator for 30 minutes.
Heat oil in a large skillet over medium heat. Add onion and crushed pineapple. Cook, stirring occasionally, for 2 minutes. Push mixture to the side of skillet and add fish to center of skillet. Reserve marinade. Cook for 4 to 5 minutes or until fish is no longer translucent and flakes easily when tested with a fork. Remove from skillet.
Whisk evaporated milk and cornstarch into reserved fish marinade. Pour into skillet; cook over medium heat for about 5 minutes or until slightly thickened.
Warm tortillas in a skillet or microwave. Divide fish mixture evenly between tortillas. Fold each tortilla in half and place on a serving dish. Pour sauce over the enchiladas. Serve warm garnished with chopped cilantro and diced onion, if desired.