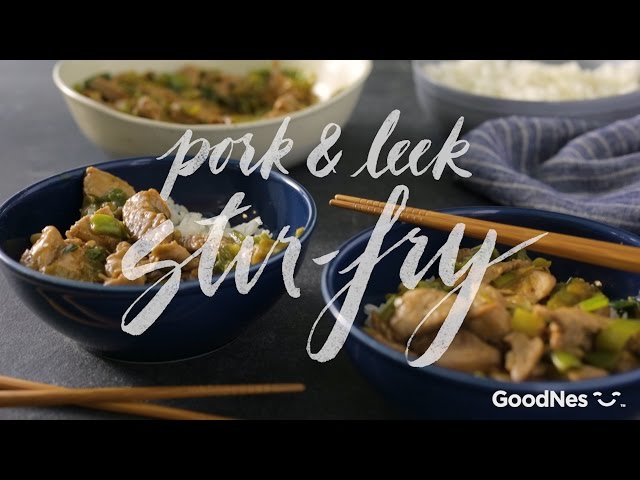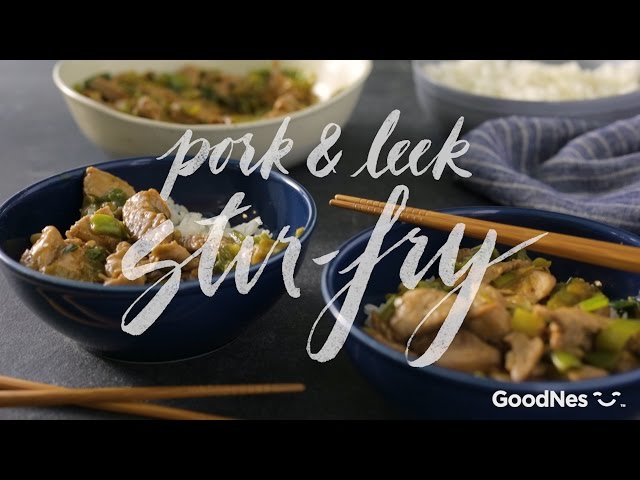 Official MAGGI®
Pork & Leek Stir-Fry
Makes 4 servings, about 1 cup stir-fry and 1/2 cup rice per serving
●

●

●

●

●

●

●

●

●

●

●

●

●
Combine 1 tablespoon soy sauce and 1 teaspoon cornstarch in medium bowl; add pork and toss to coat. Set aside to marinate for 10 minutes.
Whisk water, remaining 2 tablespoons soy sauce, sriracha, remaining 1 teaspoon cornstarch, sugar and bouillon in small bowl. Set aside.
Heat 2 teaspoons peanut oil in wok or large, nonstick skillet over medium-high heat; swirl to coat. When oil is hot and shimmering (not smoking), add pork. Stir-fry for 1 ½ to 3 minutes or just until no longer pink. Remove from wok.
Heat remaining 1 ½ teaspoons peanut oil in same wok; swirl to coat. Add leeks; stir-fry for about 3 minutes or until almost tender. Add garlic and ginger; stir-fry for about 30 seconds or until fragrant. Add pork back to wok.
Stir in soy sauce mixture. Reduce heat to medium; cook for 1 to 2 minutes or until sauce thickens. Turn off the heat; stir in sesame oil. Serve with rice.