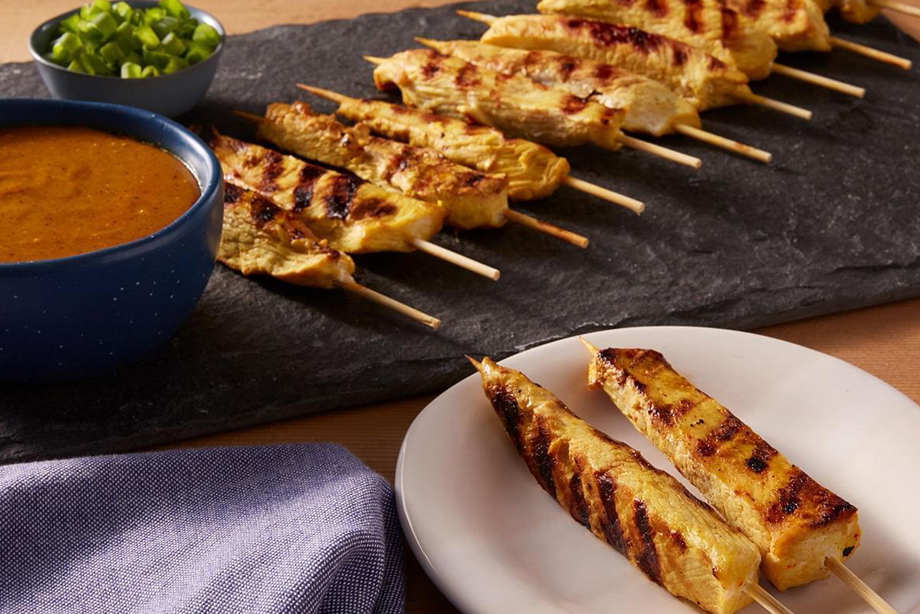 Chicken Saté with Almond Butter Sauce
Makes 6 main-dish servings, 2 skewers per serving
1 tablespoon coconut oil or vegetable oil

3 tablespoons packed dark brown sugar

2 cloves garlic, finely chopped

2 teaspoons Thai curry paste

1 teaspoon ground turmeric

2 tablespoons fresh lime juice

1 pound boneless, skinless chicken breast halves
Heat oil in medium saucepan over medium heat. Add sugar, garlic, curry paste and turmeric; cook, stirring constantly, for 30 seconds. Stir in coconut milk, lime juice and fish sauce. Bring to a boil. Cook for 2 minutes. Remove from heat.
Pour ½ cup mixture into large bowl. Let cool. Add almond butter to mixture in saucepan; stir well.
Cut chicken into 1 to 1 ½-inch-wide strips. Place in bowl with cooled mixture; stir to coat.
Thread chicken onto 12 (6-inch) skewers. Discard marinade.
Grill or broil skewers for 3 to 4 minutes on each side or until no longer pink and cooked through.
Reheat dipping sauce in saucepan over low heat. Serve chicken with sauce.